Birmingham
Located in the foothills of the Appalachian Mountains, Birmingham boasts a metropolitan population of a little more than 1 million people. Founded in 1871 as a steel-making center, it exploded onto the map almost overnight, quickly growing into Alabama's largest city and thus earning the nickname of "The Magic City." Today, it is a medical and financial center, as well as a cultural and heritage destination. Its vast selection of attractions includes

the Alabama Sports Hall of Fame,

the Birmingham Museum of Art,

Birmingham Civil Rights Institute, Alabama Jazz Hall of Fame, Southern Museum of Flight, Vulcan Park,

Arlington Antebellum Home, McWane Center, Alabama Adventure Theme Park,

Birmingham Botanical Gardens, and the Birmingham Zoo, the state's largest. The city is also famous for its beautiful

golf courses, year-round calendar of entertainment, fabulous shopping and world-class dining. Birmingham is centrally located between Huntsville and Montgomery and serves as the major hub of air transportation in the state. Visit www.birminghamal.org for more information.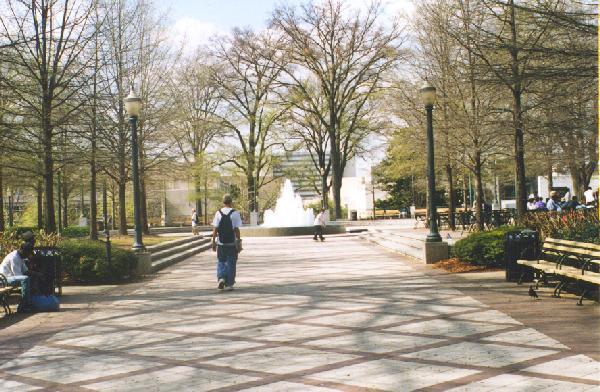 Linn Park, Downtown



The greater metropolitan Birmingham area includes a number of communities such as Alabaster, Bessemer, Fultondale, Gardendale, Graysville, Helena, Homewood, Hoover, Hueytown, Irondale, Midfield, Mountain Brook, Pelham, Tarrant, and Vestavia Hills.
A few statistics about Birmingham's population:
City of Birmingham ..... 265,000
Jefferson County .... 662,000
Metropolitan Statistical Area (4 counties) ... 891,000
Brief History:
Birmingham was incorporated in 1871. Its location and resources provided the impetus for growth of the city. Railroads crossed here and there was an abundance of raw materials needed for producing iron and steel: coal, iron ore, and limestone.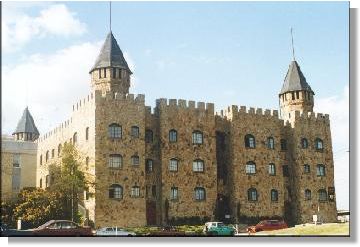 Early in its history, Birmingham was a major steel producer, and was known as the Pittsburgh of the south. Today, iron- and steelmaking no longer plays the major role it once did economically. The city today is home to several major corporations' offices, with varied interests. One source reports the major employer is the local University of Alabama, Birmingham (UAB). UAB includes a major focus on health, with several schools devoted to medical education and the UAB hospital. Birmingham is also the home of several other major hospitals and clinics.
A more comprehensive history, and photos, can be viewed at the Birmingham Convention and Visitors Bureau (there's a link at the bottom of this page).
Housing, Employment, and Cost of Living:
Housing choices are abundant and varied in the area. A home can be purchased in virtually any price range and, of course, varies depending on the area. There is also a large selection of housing for rent--including houses, apartments, townhouses, and condos.
Employment opportunities are abundant in the Birmingham area. While it no longer depends primarily on steelmaking, a number of manufacturing facilities remain in the area. Birmingham is also home to quite a few "white collar" jobs--medical, engineering, and information services.
The cost of living could probably be called "average." Prices for everyday items are not as high as in large cities. State income tax is moderate, as compared to some states--perhaps in the range of 3% to 5%. Jefferson County levies a non-resident occupational income tax. State and local sales taxes are relied upon for a substantial portion of communties' revenue; sales tax varies throughout the state and generally ranges from about 6% to 9% levied on all purchases of consumer goods and food. Real estate property taxes are modest as compared to many states.
Churches and Restaurants Are Popular:
Located in the southeastern United States, Birmingham is planted firmly in what is known as "the Bible belt," an area in which religion plays a significant part of life. A casual perusal of the Birmingham telephone directory resulted in a rough count of approximately 1,600 churches in the area. The predominant religion is Baptist but a wide array of other churches are represented (examples: A.M.E., Catholic, Church of God, Jewish, Latter Day Saints, Mennonite, Methodist, Nazarene, Presbyterian, Seventh-Day Adventist, and non-denominational).
Another popular activity in Birmingham is dining out. The telephone book provides a count of approximately 1,200 restaurants in the metropolitan area. Restaurant choices are varied, including Greek, Italian, Japanese, Mexican, and Thai. A popular local fare is barbequed pork, beef and chicken, cooked over an open hickory flame and prepared with a barbeque sauce.
Birmingham became a focus of media attention during the civil rights era of the 1960's. The racial strife of that period has been indelibly linked to Birmingham. Today's Birmingham has changed vastly, but the city has not forgotten the era. Found throughout the area are historical markers commemorating the civil rights actions of the 60's as well as an impressive and widely-acclaimed Civil Rights Institute - - which every visitor to Birmingham should include on his or her itinerary.
Arts & Entertainment:
"BJCC:" Birmingham-Jefferson Convention Center (formerly the "Civic Center") includes a large auditorium and a theatre. A variety of events are held there during the course of a year: home and garden show, boat show, musical performances by big-name performers, theatrical performances, performances by the Alabama Symphony Orchestra (whose home is Birmingham) and the Alabama Ballet (also based in Birmingham).
Birmingham is home to a number of theatrical groups, from professional to semi-professional, to amateur. The Birmingham Museum of Art is located downtown and includes permanent as well as temporary exhibits.
An area known as "Five Points South" is generally recognized as a "night life" area because it is home to a number of bars and restaurants. Not much happens in the downtown area after about 5 p.m. weekdays, although people are attracted to the area of the historic Alabama Theatre and the McWane Center (a great place for kids, and it includes an Imax theatre). Families also enjoy visiting the Birmingham Zoo. If you're a nature lover or just enjoy a peaceful walk, the Birmingham Botanical Gardens is a great place to visit. In recent summers the Gardens has also been the site of "Garden Variety Shakespeare," performances of Shakespeare's plays out-of-doors. Roller coasters and other rides can be found at a recently-opened amusement park called Visionland.
Sports:
Birmingham is home to a minor league baseball team, the Barons, whose games are played at a beautiful facility--the Hoover Met. Several professional sports teams have lived a short life in Birmigham, including hockey and arena football. Many residents of Birimgham (and Alabama) are avid college fans, with a long-lasting rivalry between fans of the University of Alabama and Auburn University. Another favorite pastime is NASCAR racing at the nearby Talladega Superspeedway.
Topopgraphy and climate:
The city itself is contained in a broad flat plain, bordered on the south side by a high elevation which the locals call "Red Mountain," the name derived from its seams of iron ore--visible in the cut made for highway 280 expressway. Area topographic features include rolling countryside, heavily wooded and covered with greenery. Predominant in the area are tall longleaf southern pines seen throughout much of the south and a source of raw material for pulp and paper mills located widely about the south.
Birmingham's climate is generally mild, with winter daytime temperatures usually no lower than 35 to 40 degrees Fahrenheit. A few snow flurries may occur during winter months, but snow seldom accumulates here. Springtime is especially beautiful, with a multitude of flowering trees, bushes, and flowers. Blossoms begin to appear in February, with peak months being March and April for many flowering plants, although the area remains colorful throughout the summer and fall. Summer months are warm, with daytime highs often in the 90's to low 100's.